Mallon Building Ltd wins Gold at the Southern Region House of the Year awards
Mallon Buildering Ltd was recently awarded a Gold Award at last weekend's Southern region 2014 House of the Year in the category New Homes $450,000 - $600,000.
Each entry is judged and marked out of a possible 2,000 points with Gold is awarded only awarded to entrants achieving at least 1800 points or 90% of the points available.
We are very proud as this represents an extremely high standard of building.
Check out Mallon Builing Ltd's newly renovated website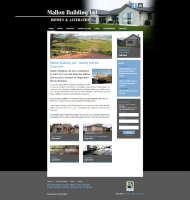 We have been working away behind the scenes with Turboweb Ltd to give our website a bit of a make-over. We will be adding news items and images regularly, so please subscribe to our newsletter and check back in with us every now and then.

If you would like to speak to someone at Mallon Building Ltd click here for full contact details :)



Master Builders' House of the Year
After a series of regional events throughout New Zealand the National Finalists are announced and the best builders are awarded the coveted National titles of:
Supreme Award for the Registered Master Builders House of the Year
Supreme Award for the Registered Master Builders Renovation of the Year
Mallon Building Ltd is excited to be a part of this prestigious competition this year and we are looking forward to judging in late April 2014.