Testimonial - House Extension/Restructuring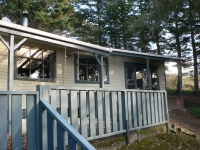 To whom it may concern,

Tony Mallon built a garage for us in August 2005, and then worked for us again from Febuary 2006 till April 2006 building an addition to our house and restructuring the existing dwelling.

We found Tony's workmanship and communication to be exceptional. He was safety conscious and very easy to deal with - friendly and easy going. He finished jobs within the expected timeframe and also within the price originally quoted.

We would have no hesitation in asking Tony to work here again and have recommended him to others.